We built Condo Ally and HOA Ally to help us run our own associations. One thing that got old fast was the monthly collection of assessment checks and depositing them at the bank.
Setting Up Dwolla
We chose Dwolla as our payment provider has the lowest prices and simplest checkout experience. Once setup, residents can pay with one click! Or even zero if they enable auto-payments! You get paid on time and never need to handle paper checks again!
Getting setup with Dwolla as an association is easy. Go to Manage > Financials and you'll see this at the top: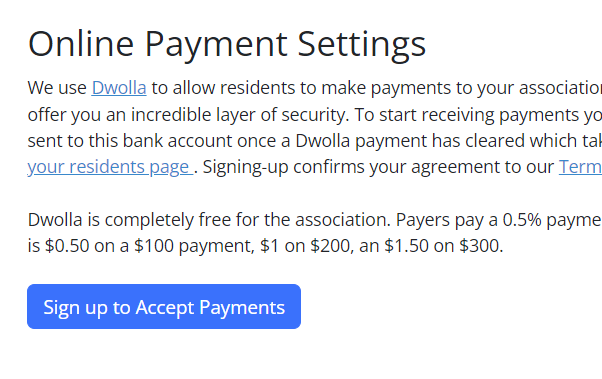 Click the blue button and you'll be prompted for your bank account and routing numbers: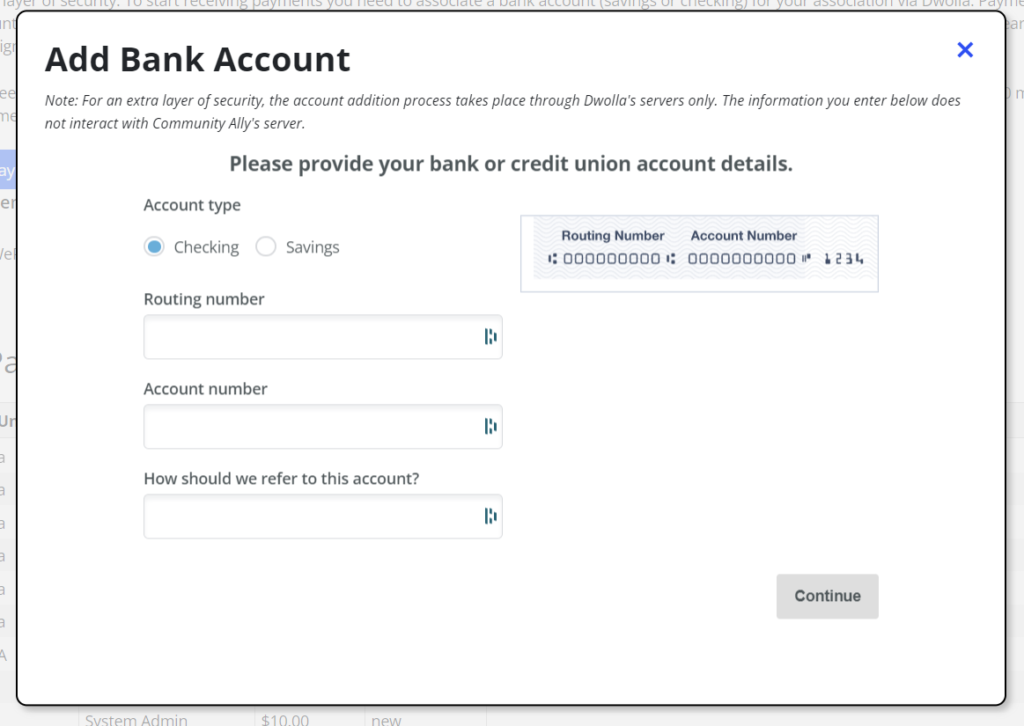 Dwolla will then transfer two small ($0.01-$0.20) deposits, called "micro-deposits", to your bank account which usually take 2 business days to show up. After 2 business days, login to your bank's website and find the two small deposits from Dwolla and enter them back at this same page on your site.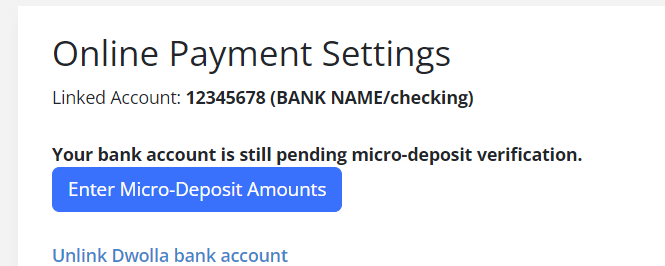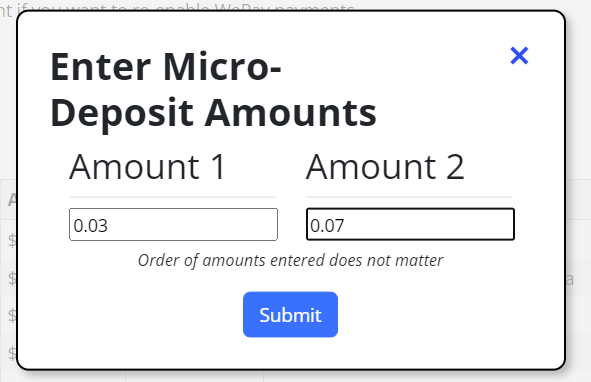 Examples of how the micro-deposits may show up in your bank account transaction list:


You need to wait at least a day and the amounts will be a penny or more, but less than 20 cents. If you have questions, reach out to support using the help link in the footer. If you're unsure of the amount, don't type in random micro-deposit values, this will cause your account addition to fail and you'll need to start over.
Setting Up WePay (Old/Deprecated, no longer offered)
WePay sign-ups are no longer support as of 2021, but we leave this here for associations grandfathered in.
We teamed up with WePay to provide extremely easy online payments with an extremely low transaction fee. Also, in order to keep your financial information safe and be compliant with all laws, we let WePay handle the transaction so we never store any of your crucial financial information on our servers. To get started is easy:
At the top of your site, click the "Manage" menu, then click "Online Payments"
You will be guided through a few easy questions about your association's assessments
Sign-up for a WePay account. You will hook up this WePay account to your association's checking account. All payments made via Condo Ally will be automatically be transferred to your checking account.
Once you're signed up for WePay, scroll down to the bottom of the "Online Payments" page and verify your settings for who pays for the financial transaction fee.
When residents make payments, the payments will automatically be transferred, once cleared, to the association's bank account that was used when setting-up WePay.
Assessment Tracking
At this point, your fellow residents can now make payments via your Condo Ally site. If you want to make it work even better, setup assessment tracking so you and your residents can see what month they're paying for. This also has the added side-benefit of encouraging past due payments to be made.
At the top of your site, click the "Manage" menu, then click "Assessment History"
Fill in the most recent month (or whatever your association's pay period is, semi-annual, annual, etc.) for each unit for which their assessment was paid. You can go back and fill in as much of the history as you would like, but by entering the last payment received, residents will know what pay period they most pay for next.
Check the "Enable Payment History for Residents" check box at the top of the page
Now when residents come to pay their assessment online, they can see what pay period they're paying for, their payment history, and your assessment history will automatically get updated as payments are made.