The discussion threads on the home page are a great way to have a conversation about a topic in way that it is tracked and allows people to engage relative to their interest. Based on user feedback we've found most users prefer the home page discussion, versus the "discussion" group e-mail, because it spares the inbox of people that aren't interested.
Creating a Thread
Click the "Start New Thread" button to open the thread creation pop-up.

Enter a descriptive title for what you're discussing, and then enter your message in the body. If you're a board member or site admin, you have the ability to restrict the thread to being viewed only by other board members/site admin. Finally, you can choose to have an e-mail sent out to your association's discussion group, or the committee, telling them about the new thread. This is a good idea, because many residents may log-in to your association's site only once per month.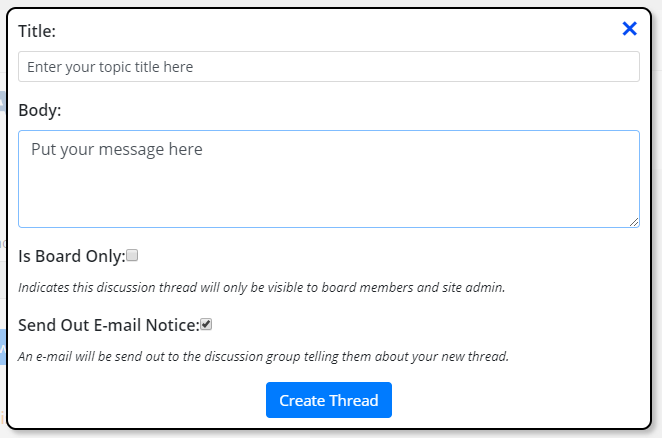 (You will not see the "Send Out E-mail Notice" check box if you have the discussion e-mail group disabled. You can enable that e-mail group via the setting at the bottom of the Manage -> Residents page)
The notice e-mail looks like this:
Subject: New Discussion Created – [Topic Title]
Body:
[Your Name] created a new discussion thread. If you're interested in joining the discussion, visit your Craft Group home page:
https://[Your Site].CondoAlly.com/#!/Home
[Your Name] wrote:
[Message Body]
Adding Messages
Taking part in the discussion is easy! Click on the thread you want to view, type your message into the text field, and click "Add Comment" button. You also are able to edit and delete your messages. If you delete the last message in a thread, the thread will close.

Notifications
If checked, an email will go out notifying residents of the new thread. After that, notifications are only sent if your association is on the premium plan. Residents can choose their default notification interval in their profile or they override that at the thread level using the radio buttons at the top of the thread.

Residents will receive an email based on their setting summarizing comments they may have missed.