How to Make an Online Payment with Dwolla
Community Ally has partnered with Dwolla to process online payments in a very secure and easy manner. Note, Dwolla only supports eCheck/ACH payments, not credit/debit card payments. We investigated just about every online payment facilitator provider around and chose Dwolla because credit card fees are so high (~3%) and ACH is so low (0.5%). Further, we surveyed our users and found few users wanted to pay their dues on their credit card. If you wish we accepted credit cards, let us know in the help chat so we can gauge interest.
If your association has enabled online payments then you should see a form like this when you login: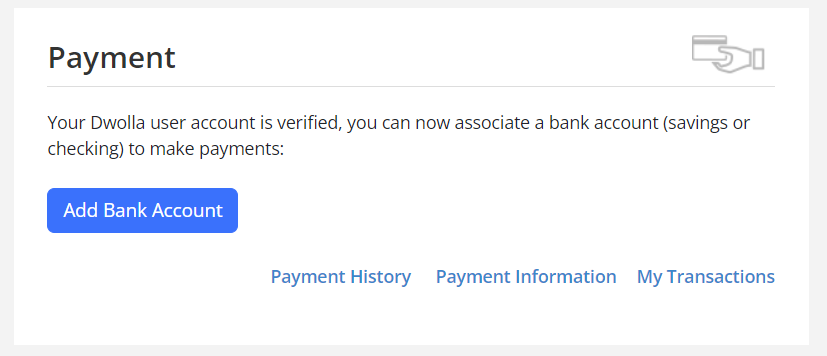 Click the blue "Add Bank Account" button and you'll be prompted for your checking or savings account details (cards are not currently supported):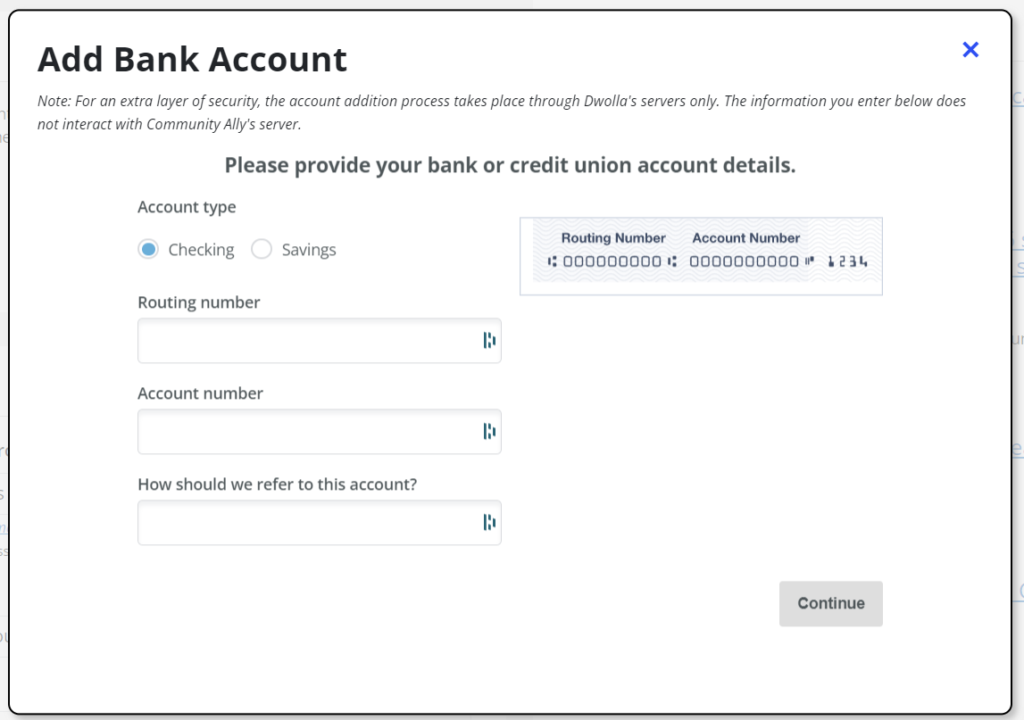 If the data is valid you'll be presented with a success message:

Dwolla will then transfer two small ($0.01-$0.20) deposits, called "micro-deposits", to your bank account which usually take 2 business days to show up. After 2 business days, login to your bank's website and find the two small deposits from Dwolla and enter them here: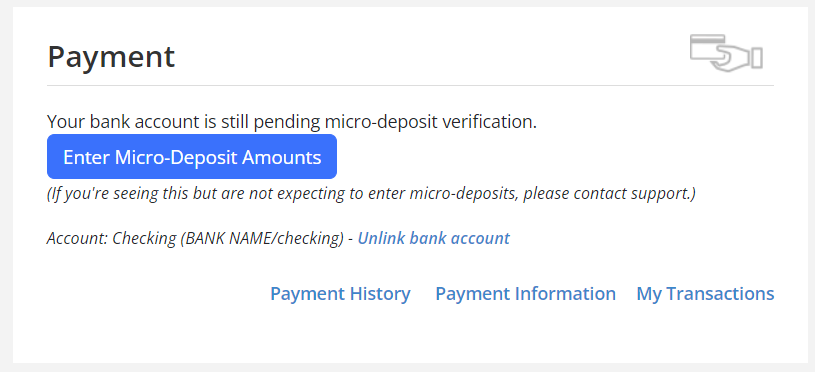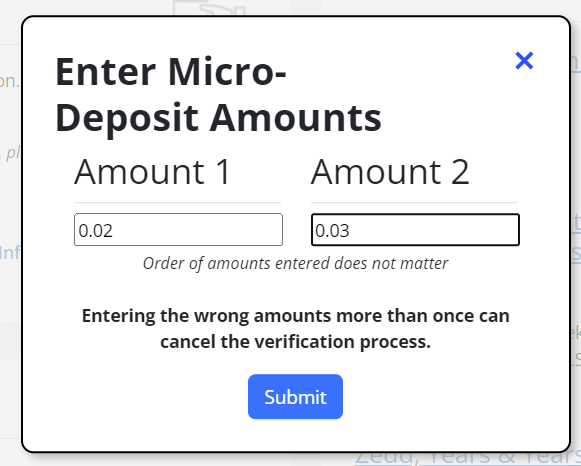 Examples of how the micro-deposits may show up in your bank account transaction list:


You need to wait at least a day and the amounts will be a penny or more, but less than 20 cents. If you have questions, reach out to support using the help link in the footer. If you're unsure of the amount, don't type in random micro-deposit values, this will cause your account addition to fail and you'll need to start over.
Once your account is confirmed, you'll be able to make payments to your association with 1 click when paying for assessments. If the payment amount is correct, you can simply click "Submit Payment" and you're all set!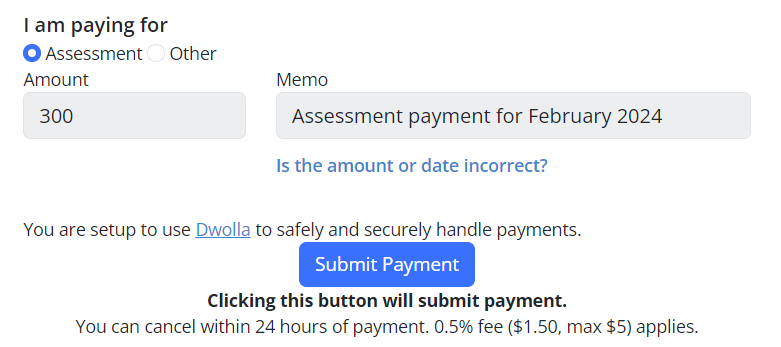 How to Setup Automatic Payments with Dwolla
If you'd like to cut down your payment effort from one click to zero, you can enable auto-payments. If the payment amount is correct, just click "Enable Auto-Pay" and your payment will be made on the first of the next pay period. You can disable this at any time. If your assessment changes you'll be automatically unenrolled and notified.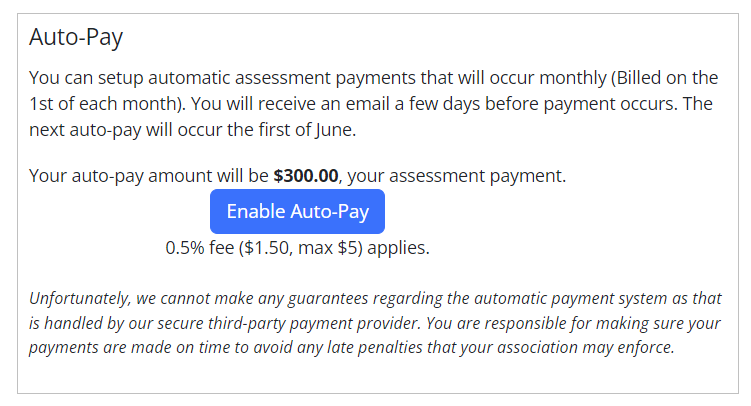 How to Make an Online Payment with WePay (Old/Deprecated)
WePay has been deprecated as of 2021. We leave this information here for HOA Ally and Condo Ally users that have been grandfathered in to use WePay.
Go to your association's home page. If online payments are enabled, you'll see a section like this on the left of your home page.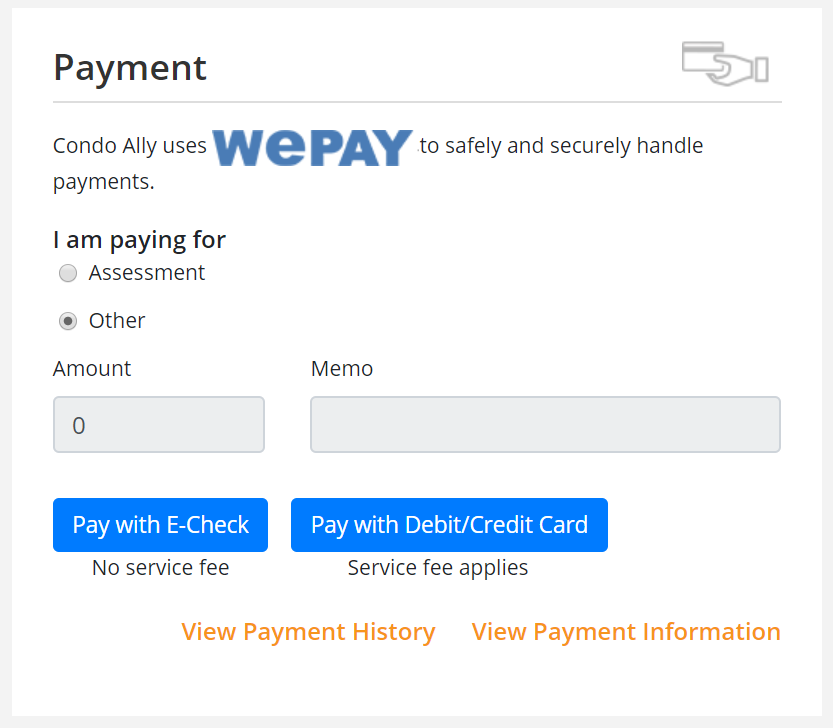 If your association has pre-set your assessment amount you can use the radio button to choose that. Otherwise, select the "Other" radio, enter the amount, enter what you're paying for in the "Memo" field, then click one of the payment buttons. You'll be redirected to a WePay checkout page to securely complete your payment.